Strong quakes successively hit North East Japan / Tepco publishing no reports on Fukushima plant status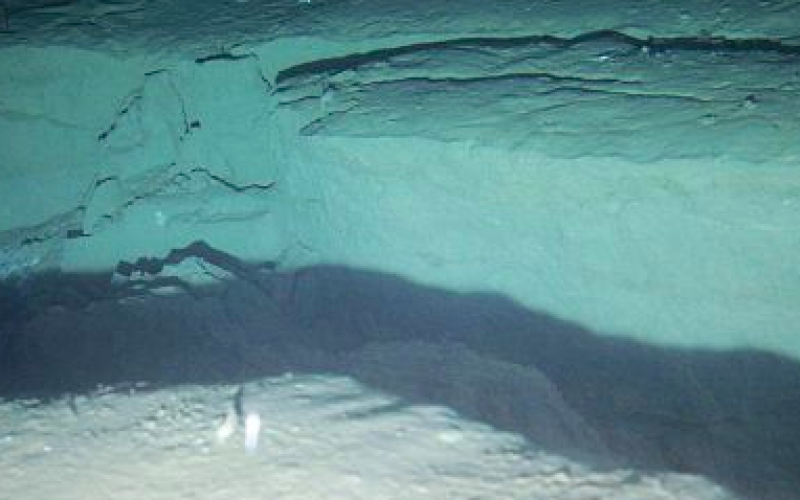 On 2/17/2015, multiple major quakes hit North East Japan.
The first one occurred at 8:06 JST, magnitude was 6.9. Epicenter was "Sanriku offshore", depth was 10km. Japan meteorological agency announced Tsunami warning to Iwate offshore however no remarkable damage was reported.
After 3 major aftershocks from M4.6 to M4.8, M5.7 hit Iwate offshore at 13:46 JST. The maximum seismic intensity was 5+.
By this moment, 3 more aftershocks followed the quake near the epicenter.
It has been over 12 hours since the first one of M6.9, but Fukushima plant status has not been reported by Tepco yet.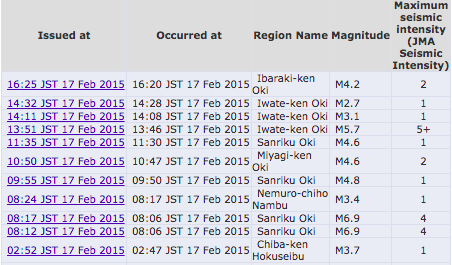 http://www.jma.go.jp/en/quake/quake_local_index.html
http://www.jma.go.jp/en/quake/20150217081759395-170806.html
http://www.jma.go.jp/en/quake/20150217135131395-171346.html
http://www.tepco.co.jp/index-j.html
Iori Mochizuki
_____
Français :
De forts séismes ébranlent le nord-est du Japon / Tepco ne publie rien sur l'état de la centrale de Fukushima
Le 17 février 2015, de multiples séismes majeurs ont frappé le Nord-Est du Japon.
Le premier a eu lieu à 08:06 JST, sa magnitude était de 6,9. Son épicentre était "au large de Sanriku", à 10 km de profondeur. La Japan meteorological agency a émis une alerte au tsunami pour les côtes d'Iwate néanmoins aucun dégât notable n'a été rapporté.
Après 3 répliques majeures entre M4,6 et M4,8, un M5,7 a frappé au large d'Iwate à 13:46 JST. L'intensité sismique maximale a été de 5+.
Pour l'instant, 3 répliques de plus ont suivi ce séisme près de son épicentre.
On est à plus de 12 heures du premier de M6,9 mais la situation dans la centrale de Fukushima n'a pas encore été diffusée par Tepco.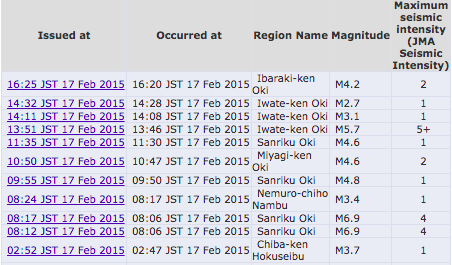 http://www.jma.go.jp/en/quake/quake_local_index.html
http://www.jma.go.jp/en/quake/20150217081759395-170806.html
http://www.jma.go.jp/en/quake/20150217135131395-171346.html
http://www.tepco.co.jp/index-j.html