JR is going to prepare special containers only to carry radioactive debris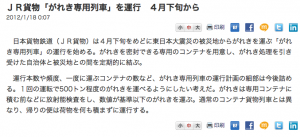 Japan Railway (JR) is planning to have a special container for radioactive debris.
One train will carry 500 tons of debris.
They state they won't carry the debris which is more radioactive than the legal limit but the containers are supposed to hermetically pack the debris.
(Source)
JR貨物「がれき専用列車」を運行 4月下旬から
2012/1/18 0:07
日本貨物鉄道(JR貨物)は4月下旬をめどに東日本大震災の被災地からがれきを運ぶ「がれき専用列車」の運行を始める。がれきを密封できる専用のコンテナを用意し、がれき処理を引き受けた自治体と被災地との間を定期的に結ぶ。
運行本数や頻度、一度に運ぶコンテナの数など、がれき専用列車の運行計画の細部は今後詰める。1回の運転で500トン程度のがれきを運べるようにしたい考えだ。がれきは専用コンテナに積む前などに放射能検査をし、数値が基準以下のがれきを運ぶ。通常のコンテナ貨物列車とは異なり、帰りの便は荷物を何も積まずに運行する。
Iori Mochizuki