News: July 28, 2011
via @zishingenpatsu
Since nuke plants exploded,a lot of the people have exophthalmus,probably caused by thyroid problem.They are packed in Fukushima because of the pressure from the gov and Fukushima local gov.
Everybody's panicking inc doctors.
https://twitter.com/#!/zishingenpatsu/status/94560707915423746

Nuclear agency is trying to change the legal limit for nuc workers again,
so they are allowed to be exposed for 350mSv in total ,where it has been 250mSv
http://www.tokyo-np.co.jp/article/national/news/CK2011072802000041.html

Finally all the beef from Miyagi are banned to sell.(97,000 cows)
http://www.asahi.com/special/10005/TKY201107270863.html

[Important]
Radiation monitoring data by helicopter 7/27/2011
http://www.mext.go.jp/component/a_menu/other/detail/__icsFiles/afieldfile/2011/07/27/1305819_0727.pdf (PDF)

via @kitakazekurumi
北風くるみ
ねえみんな!全然関係無いツイートにも反原発とか入れて、エネルギー庁を笑わせようぜ。一斉にやればサーバーパンクするかも。
Let's distract their censorship program !
Add the word "anti nuc(脱原発)" to any random tweets.

They are starting to fish again around Fukushima nuc plants having the test result to show "It's safe".
http://www.kahoku.co.jp/news/2011/07/20110728t65007.htm

Discount shop in Tottori sold leaf mold to detect 14,800Bq/kg.
There is no "legal" limit of leaf mold and they have already sold 329 packs.
The package showed "made in Iwate,Thailand,Vietnam..etc"
http://www.jiji.com/jc/eqa?g=eqa&k=2011072800021

LDP receives 47,000,000JPY "per member" from power companies, which is from our power bill.
http://takedanet.com/2011/07/post_fbd4.html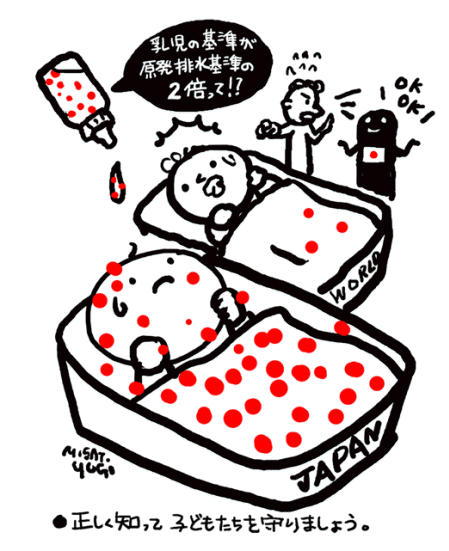 "Safety" limit of radiation dose in food,
Belarus 37Bq/kg
Japan 2,500Bq/kg (Iodine 2,000 Cesium 500)
http://kingo999.web.fc2.com/kizyun.html

[For English readers]
Report about Fukushima nuc plant by Reuters.
http://graphics.thomsonreuters.com/11/07/JapanNuclearRadiation.pdf (PDF)

[For Japanese readers]
One of the most reliable radiation test institutions,
data includes radiation dose in air,food,etc.
They also make radiation map.(must-see)

Sliding is banned in Fukushima to play baseball for the risk of the radiation in the ground.
http://yaplog.jp/taka-sapo/archive/652

via @cont_mama
Tennis coach intentionally choose highly radioactive place to play tennis,
"The more you are exposed,the stronger you become" in Fukushima
https://twitter.com/#!/cont_mama/status/95817263311097857

Mongolia turned down to accept radioactive waste from Japan.
http://bbs.kurashi-china.com/viewthread.php?tid=523&extra=page%3D1

via @kou_1970
鈴木 耕
ついに、資源エネルギー庁は「原発記事監視」のための事業を、広告代理店アサツーディ・ケイ(ADK)と7千万円で契約。海江田経産相は「予算を全部使い切る必要はない」としたが、資エネ庁の担当役人は「入札が済んでいるのでこのままやる」と大臣発言を無視(東京新聞、28日)。凄まじい国だ。
This company http://www.adk.jp/ made a contract with Resources and Energy Agency for 70,000,000JPY to monitor internet.
Welcome to the battle field.

All the Ibaraki and Tochigi beef will be tested as of August.
http://ibarakinews.jp/news/news.php?f_jun=13117781095171
http://sankei.jp.msn.com/politics/news/110728/lcl11072811040002-n1.htm

Cesium beef was served for school lunch in Kagawa too.
1480 of the kindergarten kids,students and teachers consumed it.
http://www.okinawatimes.co.jp/article/2011-07-28_21157/

via @def_zep_deep
よしの
チェルノブイリを取材したNPO団体の野呂美加さん講演。 0.16㎲v/hの汚染地域に語学留学し白血病で亡くなった日本の男性もいた…。食物からの内部被曝が問題か? youtu.be/zb6Gvlytseo?t=…
An NPO member,"A guy went near Chernobyl to study abroad.He died of leukemia.It was only 0.16uSv/h. Probably it was internal exposure from contaminated food."

Committee on Health, Welfare and Labor has a speech at HR. He assumes,total decontamination would cost 800,000,000,000,000JPY.

[For Japanese readers]
Radiation exposure causes children intelligent disorder,esp analytical intelligence.
http://www.globe-walkers.com/ohno/interview/loganovski.html

Tokyo Bar Association announced a statement about internet monitoring project of the gov.
"Since 311,internet has been always right and much more helpful than gov. We are deeply concerned about the freedom of speech"
http://headlines.yahoo.co.jp/hl?a=20110728-00000053-zdn_n-inet

DP "We are steadily restarting nuc plants"
http://headlines.yahoo.co.jp/hl?a=20110728-00000073-mai-pol

[whistle-blow]
When DP and LDP made a law of compensation for the damage by nuclear accident,ministry of economy ordered them
to save Tepco by not making an account for the compensation so they can keep the property.
(Page 2)
https://docs.google.com/viewer?a=v&pid=explorer&chrome=true&srcid=0B1xBQ3bNCL-XNmE3NmJmYzEtNTljZi00ZGQ5LWEyYzYtNTUxNzQ1MGE1M2Qz&hl=ja


They are going to raise the price of power and gas as of September.
(Tepco will raise the power price by 93 yen)
http://mainichi.jp/select/biz/news/20110729k0000m020012000c.html?inb=ra

via @Fmiwako
miwako
我が家の犬は動悸が激しくなり、下痢をしましたが、まだご飯はちゃんと食べてます。世田谷です。RT @Marron420: @hanayuu 震災後に原因不明で眼圧が上がり失明したうちの犬が、今度は咳が頻繁になってきました。九年飼っていますがこんなの始めてです。東京都世田谷より。
My dog is sick.
Late April→ ocular tension raised and lost the sights.
July→coughing hard
Late July→Fast palpitation,diarrhea
The vet can't figure it out why. It hasn't happened for these 9 years.

via @kobayashikaoru
小林薫/小林可多入
@tokaiama 不気味です。東海アマさんをフォローした途端、大変な数の架空ユーザーからのフォローが私に。ユーザー名に一定の法則があり、同一組織(人物)による悪戯、妨害の様な印象を受けます。
Internet monitoring has started attacking the citizen.
Bots have started following anti nuc accounts.

A guy caught at the prime minister's official residence,"tried to stab pm."
http://headlines.yahoo.co.jp/videonews/jnn?a=20110728-00000043-jnn-soci

M3.4 @Fukushima 7/28/2011 20:58
http://www.jma.go.jp/jp/quake/

via @ozawashoji
小澤 祥司
#飯舘村 一月前から線量はあまり下がらずかえって上がっているところも。 核種はセシウム134と137が1:1。線量ではほぼ2:1。村中で計測しても変わらず。新たな放出はないと思われるが…。旺盛に繁った草と木からの放射線なのか。R399 #浪江 側前回毎時30μシーベルト変わらず
Idatemura→Radiation level is slightly increasing since last month.
Namiemachi→30uSv/h (same as last month)

via @tokaima
Our famous anti nuc account is cracked.
They send malware by using the account to the followers.
Don't open the link named "モデル除染先"
https://twitter.com/#!/tokaiama/status/96546532559560704

Fukushima local gov is requiring the permission to sell their beef again. "We need to save Fukushima brand."
http://headlines.yahoo.co.jp/hl?a=20110728-00000086-mai-soci

Menstrual irregularity is tweeted frequently.
It was a common symptom in Chernobyl too.
http://www.strahlentelex.de/Yablokov%20Chernobyl%20book.pdf (PDF)

Most of the radioactive sewage sludge has already been used for land filling in Tokyo.
http://www.strahlentelex.de/Yablokov%20Chernobyl%20book.pdf (PDF)

via @miamiamama
アクアマリン1031
@KinositaKouta タイに夏休みだけの予定ですが避難してきて1週間が過ぎました。東京南部在住で、鼻血や変な咳の止まらなかった娘たちがすっかり元気になっている様子を見ると本格的な海外移住ももはや決断しなきゃいけない気がします。勇気をださなくてはいけませんね。
We evacuated from south Tokyo to Thailand even though it's only for summer vacation.
Our daughters used to nose bleed and cough hard but they turned to be fine here. We may seriously need to consider emigration.